Groups and Workshops
There is a magic when women sit and share together
'It felt very safe and contained' - Autumn Women's Wellbeing Weekend
'Thank you for setting up a wonderful, powerful space for transformation.' - Autumn Women's Wellbeing Weekend
'It has been a complete gift to sit amongst other women, we have universal experiences which are so important to be shared.' - Autumn Women's Wellbeing Weekend
'I feel deeply privileged to have benefited from your learnings, watch out world!' - Autumn Women's Wellbeing Weekend
'I wasn't sure what to expect, but oh my gosh, it's been amazing, I loved every minute of it.' - Autumn Women's Wellbeing Weekend
"I really enjoyed being with women in a non-judgmental supportive way." - Autumn Women's Wellbeing Weekend
'Your session was fun, real and honest. Great mix of interactive and presented information'
'Love your enthusiasm and passion for the subject and wanting to impart it'
'Vivacious, passionate and strong'
There is a magic when women sit & share together. It is transformational, it is pure Alchemy.
I run groups and workshops for women in many different settings. My work is transferable and flexible and in addition to my private groups I also offer workshops for both public and private organisations, vulnerable client groups and the general public.
See below for upcoming and recent events, group work and workshops. 
Spring Offer – Self-love
Three bespoke life session only £99* (Normally £60 per session)

Session one – BodyTalk Tapping & Tailored Coaching Toolkit.
Session two – Akashic Alchemy Coaching for past, present issues and future support.
Session three – Drumming journey to synthesise your treatments.
Text 'YES' to 07769225086 for your holistic reboot.
* Just £20 non-refundable deposit to hold your appointment
Offer ends 26th April 2019. Book first session within a month. 
Menopause – When a Woman Becomes Her Power
Sunday 7th April – 11am – 4pm – Wick Grange Farm, Owletts Lane, Wick, Pershore, Worcestershire, WR10 3PB
Who do you want to be? The Crone; the Wise Woman, Healer & Midwife;
As women, we are not being routinely informed of how to harness our hormonal cycles, either in menstruation or peri & menopause.
This session is for any woman wanting to reclaim themselves during this, potentially, most powerful stage of our womanhood.
Together through our sharings we will explore
the physical aspects of peri & menopause, and equally importantly the psychological & spiritual journey of what ultimately defines us as Women.
THE SHAME STOPS HERE.
Book your place
I AM WOMAN – Spring
Body-Rhythms & Alchemy Woman
From Sunday 28th April – 11-5pm – Top Floor, 36 High Street, Pershore
This is the first in a series of four sessions for women to explore their own sense of 'self'. We are starting with Spring; an opportunity to reach toward or into your Winter Wise Woman, a time of retreat, turning upwards and all that means.
We are starting with Spring; an opportunity to revisit your maiden years, that's birth to mid-twenties and all that meant . Looking at all you have brought forward to your here and now. Finding ways to transform and reframe some elements and celebrate others.. We will sit, share stories, get creative, ceremonial, vocal, physical and use therapeutic bodywork techniques. Using eclectic ways to look at women's life passage through the lens of the seasons.
Book your place
Read more
Our group will be moving through those early years, feeling into the spaces within. We will use voicework techniques to express the trials and tribulations. We will incorporate some gentle bodywork – some "holding" of our younger selves, some nurturing of the fragmented parts and some joyful expressions of our emerging womanhood.
Michelle and I are sacred sassy women and that's how we work, with the profound and profane. You will sit in a safe space to share deeply and laugh equally.
We are women who are passionate about being the best we can be in this world.  Together we focus on finding ways to smash down self imposed limitations and connecting deeper and deeper with ourselves and others.
With passion we will work to explore and transform our internal relationship and dialogue within. After all, how can we can have authentic relationships with others if we don't know what our own authentic self is?
These gatherings are run as four linkable or stand-alone sessions; Summer on September 9th, Autumn October 14th and Winter 2nd December and similarly these will equate to the passage through our life's journey.
If you book all four together you will receive a discount.
If you want to rap with us about this series, either call JoRae on 07769225086 or Michelle on 07443637063
Women's Wellbeing Weekend
Autumn Equinox – 20th – 22nd September 2019 – Gaunts House, Dorset
To celebrate Autumn Equinox RGF at Gaunts House is hosting a second weekend dedicated to women, led my myself and co-facilitated with Michelle Beagley, Body Rhythms.
This is a perfect &  sacred space to reclaim your Menarche if you didn't have opportunity to celebrate it positively at the time
WE are SO excited to offer you this sacred, safe space to share, to explore and learn from each other there present.
Contact me for more information or call Gaunt's House direct on 01292 841 522 &
email admin@gauntshouse.com
Read more
We will hold space for sacred circle time, women's hormonal health focusing on reclaiming our Maiden years which also align, mirror and synthesise with Second Spring, our Peri & Menopause an empowerment spell, budding creativity session along with a Seeding Drumming Journey and en-chanting!
All this and daily stretch n' movement, Friday night Ecstatic disco, a profound Sound Bath on Saturday night, culminating on Sunday with a Reclamation Rites of Passage Ceremony.
This weekend is all about YOU.
Gaunts House is a place of peace and deep learning, a natural and ideal setting for you to be nurtured and held. With amazing vegetarian menus, catering for any dietary requirements and warm, comfy rooms, you will be served with love and care.
As women we are not routinely being educated to do this. This weekend will focus on providing you with a toolkit to fill with the practices of those of us who have explored, tried and tested insightful, yet often simple techniques and found them to be both healing and wholesome.
There will also be time for you to take some space in the ancient surrounding or choose to book one of only two 1-1 bodywork or reiki sessions.
Women's Drumming Journeys
Fourth session
Sunday 7th April – 7.30-9.30pm – Pranayama Yoga Studio, Top Floor, 36 High Street, Pershore
I have been called to offer this exploration to women who are seeking a safe place to allow inner knowing and answers to rise to the surface and guide you forward. You don't need anyone else to tell you what to do. You only need the safe space to hear yourself, where you can rest in your own healing, knowing that you are your own answer.
This Session Focuses On Meeting Your Ancestors, Those On Whose Shoulders You Stand And Those Who Have Your Back. To Discover And Honour The Power Of Your Lineage And Thank But Release The Toxic Content. Those Whose Unmet Yearnings Sit Now In Your Gift, To Acknowledge Then Make Your Own Conscious Choice To Implement Or Relinquish. For After All, What Do You Want To Pass On To The Next Generations? We Carry Seven Generations Worth Of Genetics Within Us; With The Power To Pass On Another Seven Generations Of Gifts And Yearnings. This Is A Truly Beautiful Yet Responsible Position To Hold.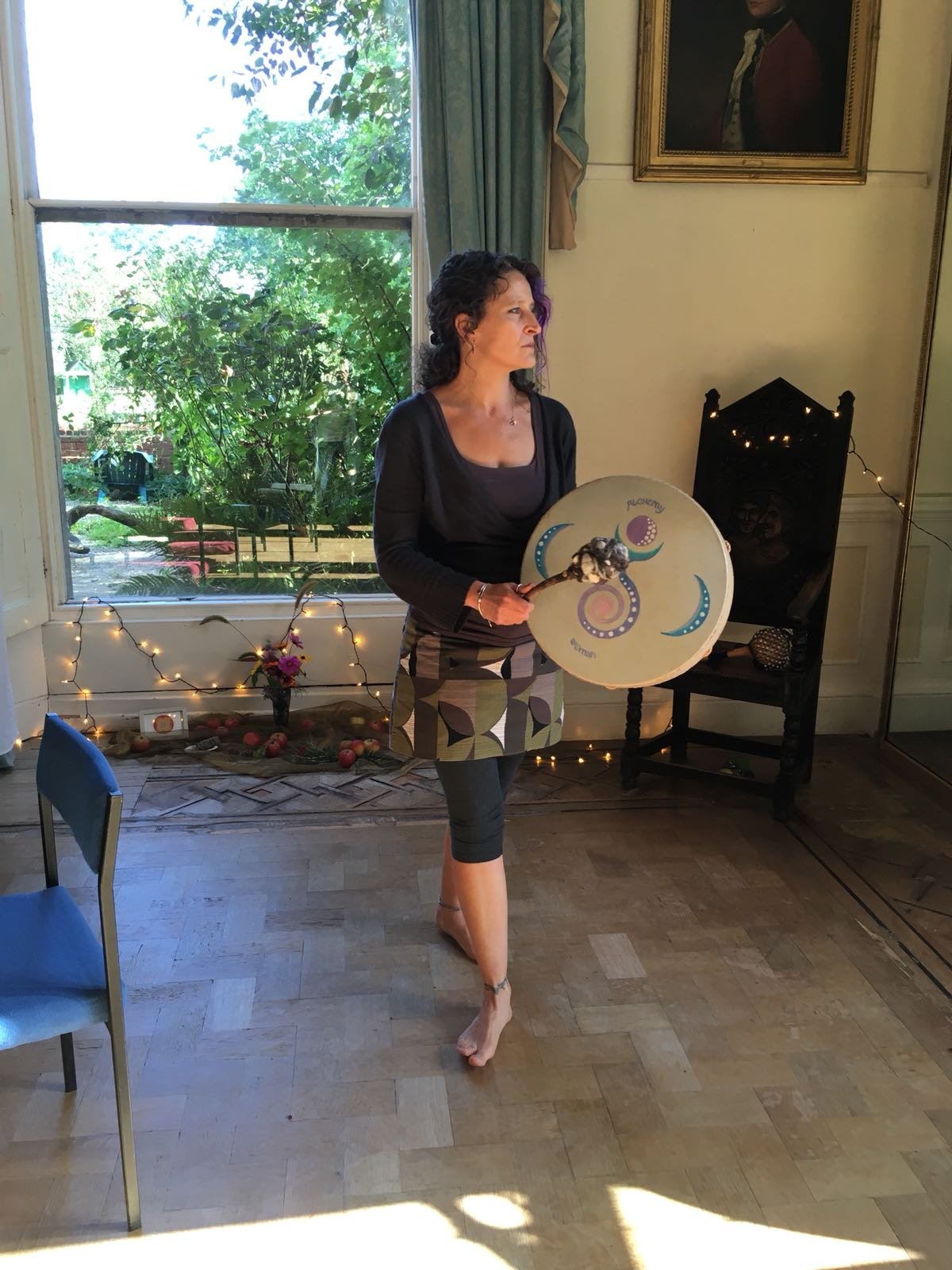 Come Lie Down And Be The Lineage Breaker You Are Called To Be. 
Read more
'When a Woman finds herself, she has a mansion she can inhabit with dignity for the rest of her life'. Jennifer Lynn Clien
JLC is a Shaman. I worked with her for over five years. The drumming journeys she led contributed to profound changes in my life, outlook and vibration. Her work also led me to a much greater and deeper understanding of myself and 'my place in the world'.
I have been called to offer this exploration out to other women who are seeking a safe place to allow your inner knowing and answers to rise to the surface and guide you forward. You don't need anyone else to tell you what to do. You only need the safe space to hear yourself, where you can rest in your own healing, knowing that you are your own answer.
Come, lie down in your own cocoon of warmth and comfort and be soul drummed by me, into your own sacred inner world and all it wants to reveal. In these times of frenetic lifestyles, you are welcome to come and receive and be served. 
This third session focuses on meeting your Power Animal. Animal energy is a powerful medicine and one we can use in our daily lives, once we know which animal seeks to currently guide us. Power animals represent our interconnection to all life, their qualities of character and their power, their inner self. The animal you meet today relates to your current challenges and will show you the way by taking you on a sacred journey. Let's get started …
The setting for these sessions is the beautiful, gentle atmosphere of Pranayama Yoga Studio, top floor, 36 High St, Pershore, WR10 1DP.  www.theartofpranayama.com 
free parking available nearby.
There are only 12 spaces available per month. You are very welcome here.
These sessions are not suitable for pregnant women or those with either heart or brain conditions or devices, women who experience epilepsy or those suffering with severe mental health conditions, due to the rhythmic nature of the drum. 
Any queries, please email me on alchemywoman@gmail.com
Alchemy Women Gathering
A monthly talking therapeutic space for sassy women's sharing. Closed Group now running until July 2019.
This Women's Group is an opportunity to really connect with yourself to share deeply and listen to one another. It's a safe, creative and fun space where we all get to choose the monthly themes: those which touch our lives and affect us, as women in our past, present and future.  Now, more than ever, with the crazy pace of daily life, we need a space and; time to reflect, to hear ourselves, be heard and witnessed in our sharing from the heart. This without judgement, without prejudice.
We also explore ourselves through Cognitive Behavioural and NLP techniques and some BodyTalk tapping. Both techniques help assist and ease some of the troubles and life patterns in which we can all get a bit stuck.
Call me for a free 20 minute chat to see if this is the group for you on 07769225086.
This is the third year of running this closed Women's Group and I am constantly honoured and amazed by the women I sit with.
Register your interest for Autumn 2019
Group-work focuses on
Resilience
Empowerment and self confidence for women
Reclaiming ME after childbirth
Whole Health
Holistic Health & Happiness
Food as Medicine: the link between nutrition and mental health
Easy peasy mindfulness techniques
Womb Wisdom
Menstruation- When a Woman Steps into her Power

Menopause – When s Woman Becomes her Power 
I offer many more practical and creative workshops to offer. If you have a specific area you would like me to explore, just get in touch to discuss it.
Contact me for my full programme.
Autumn Equinox Women's Wellbeing Weekend
Gaunts House September 21st-23rd 2018
To celebrate the Autumn Equinox I lead a weekend of women's wellbeing. There was daily yoga and mediation with Jo Pitcher, sacred circle time, chanting and dancing. We explored hormonal health and empowerment and undertook a creative soul journey with Jaci Legge-Elliott. With a Sound Bath on Saturday night with Michelle Beagley.
Some feedback from the weekend
"It has been a complete gift to sit amongst other women, we have universal experiences which are so important to be shared."
"I have learned a LOT about me this weekend."
"It felt very safe and contained."
"Great love and humour."
"Being validated was so beneficial."
"I feel deeply privileged to have benefited from your learnings, watch out world!"
"It was empowering, supportive and I learned so much."
"Thank you for setting up a wonderful, powerful space for transformation."
"I wasn't sure what to expect, but oh my gosh, it's been amazing, I loved every minute of it."
"It has helped me free some blockages which have had me holding myself back from greatness."
"I really enjoyed being with women in a non-judgmental supportive way."
"Just THE best weekend."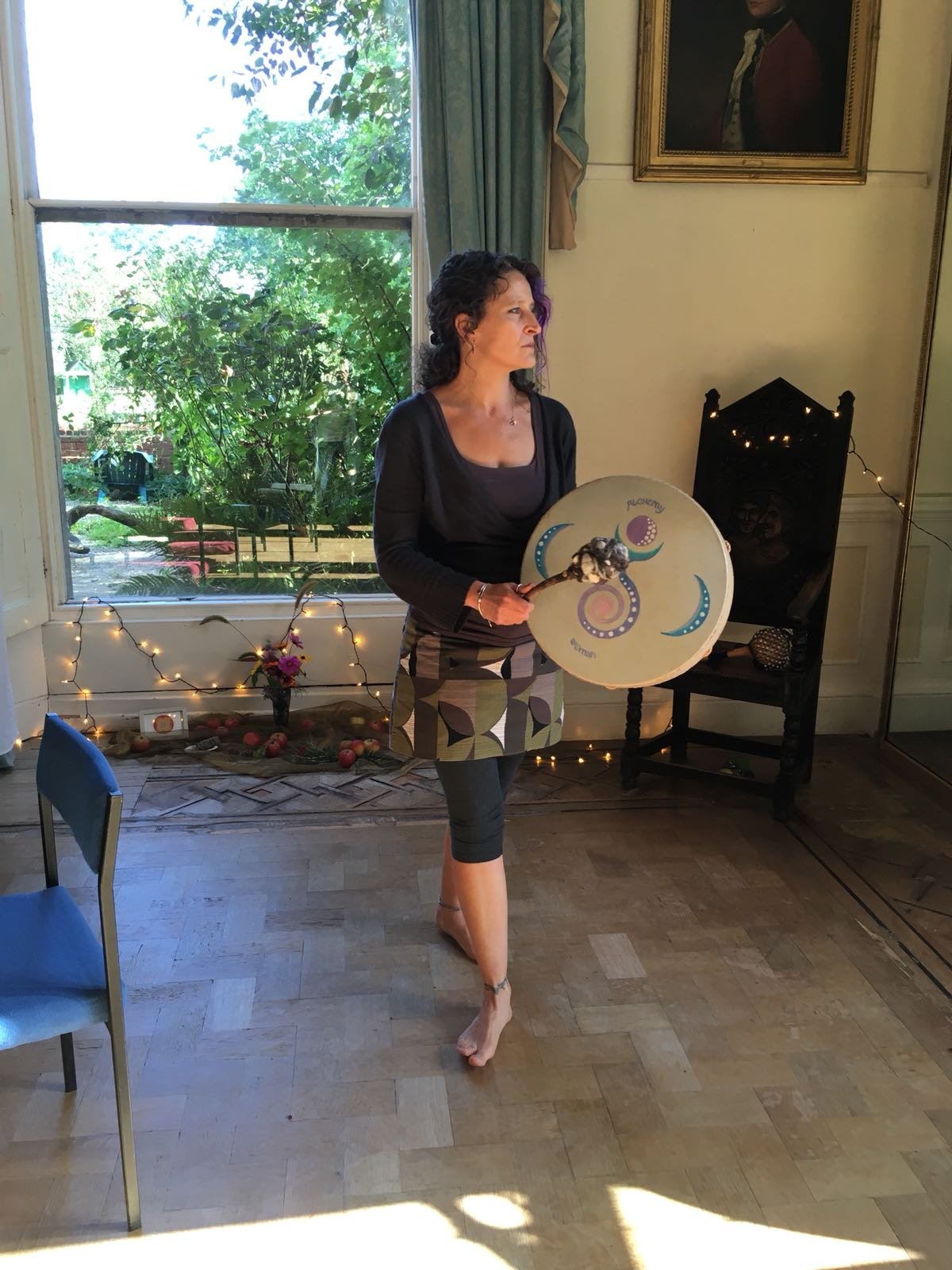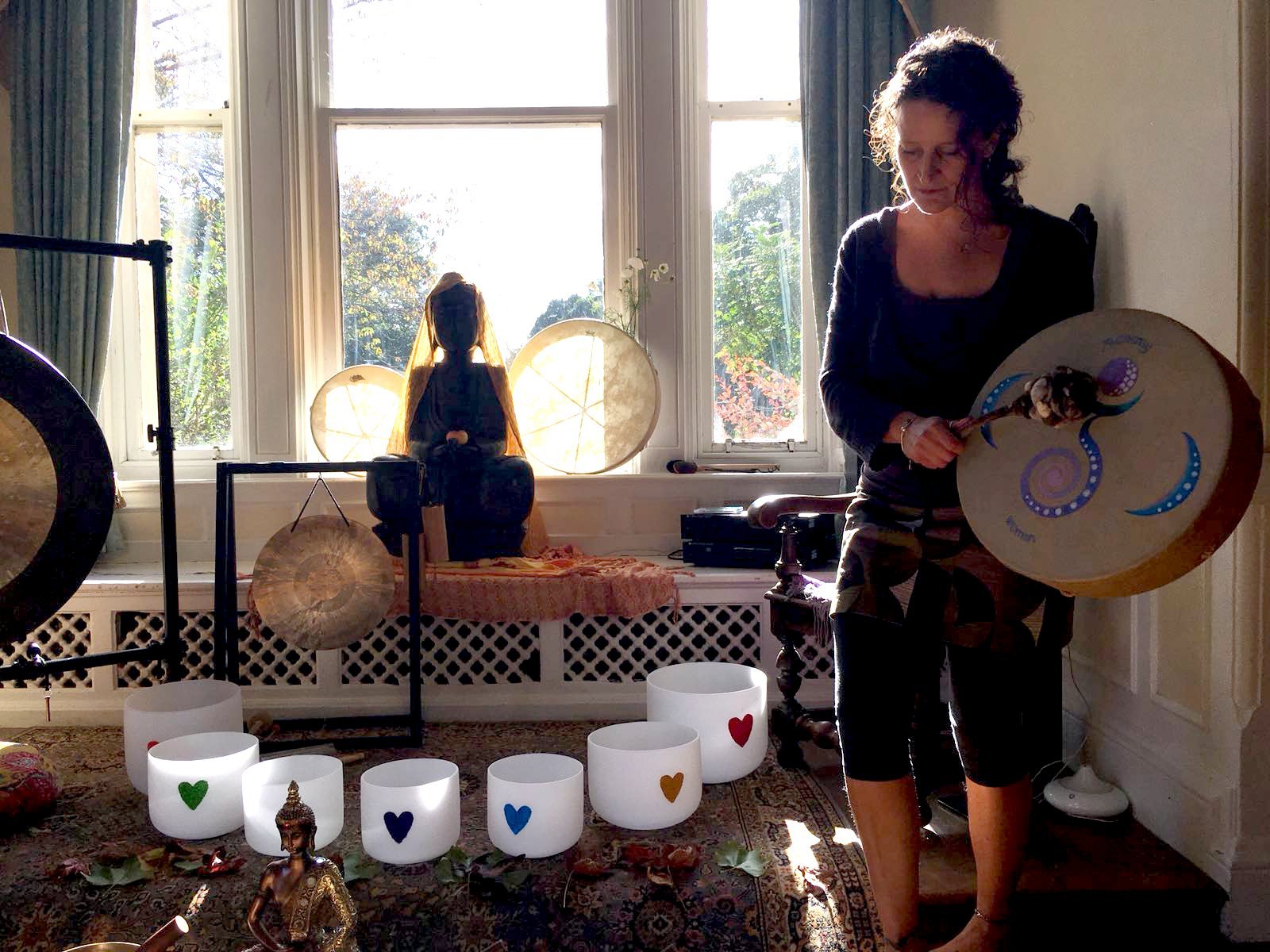 Completed – Gaunts House Summer Gathering – 9th – 12th August
Alchemy Woman's Workshops – exploring Positive Periods, Magical Menopause and Women's Empowerment session.
Gaunts House annual Summer Gathering is an invitation for you to temporarily join their ever-evolving community during an unforgettable long weekend of family friendly camping.
We had daily talks from guest speakers, lots of great workshops, a selection of therapists, stalls, great food options and various types of music! Along with an awesome array of activities for kids.
Come and join us next year.
Want to know more? Lets chat...